Excavation & Grading Services in Sanford, NC
When it comes to precision excavation and grading services in Sanford, NC, Leggette Landworks Inc stands out as the go-to expert. With a dedicated focus on bulk grading, finish grading, and new driveway installations, we bring unparalleled expertise and efficiency to every project. Whether you're a homeowner looking to enhance your property or a business owner planning a commercial development, our team is here to deliver exceptional results tailored to your needs.
Our Specialties
Bulk Grading: Creating a solid foundation is essential for any construction project. Our bulk grading services involve shaping the terrain to the required specifications, ensuring proper drainage and stability. We have the equipment and skills to handle large-scale grading projects for commercial developments, residential communities, and more.
Finish Grading: The finishing touches make all the difference. Our finish grading services refine the surface to achieve the desired levels and contours. We pay meticulous attention to detail, resulting in a smooth and professionally graded area ready for landscaping, paving, or construction.
Our Approach
New Driveways and Repairs:
A well-designed driveway adds curb appeal and functionality to your property. We specialize in creating new driveways that perfectly complement your space. Additionally, if your existing driveway is in need of repair or resurfacing, we're here to restore its integrity and visual appeal.
Consultation:
We begin by understanding your project requirements and objectives. Our team will conduct a thorough assessment of the site and provide expert recommendations tailored to your needs.
Planning:
A detailed plan is crucial for successful excavation and grading. We develop a comprehensive strategy that considers factors such as drainage, soil composition, and overall site layout.
Execution:
With our state-of-the-art equipment and skilled operators, we execute the excavation and grading process efficiently and precisely, adhering to industry best practices and safety standards.
Quality Assurance:
Our commitment to excellence extends to every phase of the project. We perform quality checks to ensure that the finished results meet or exceed your expectations.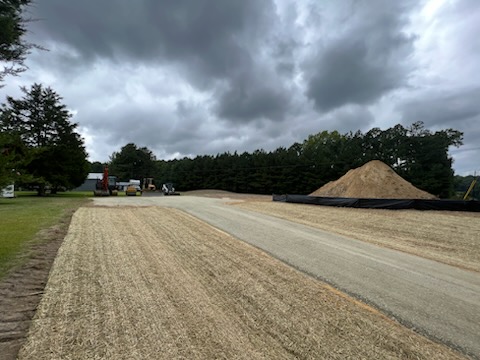 Contact Us
Whether you're embarking on a new construction project, need to repair your driveway, or require expert grading services, Leggette Landworks Inc is your trusted partner in Sanford, NC. We bring unmatched expertise, professionalism, and dedication to every job we undertake. Contact us today to discuss your project, receive a free quote, and experience the difference that our top-notch excavation and grading services can make for your property.